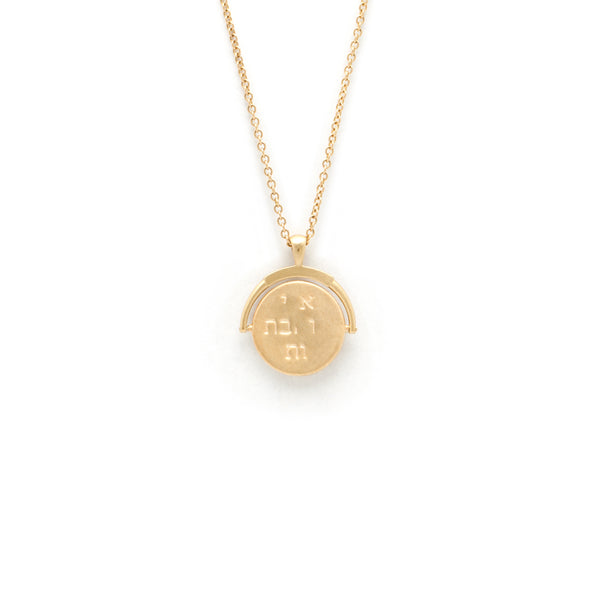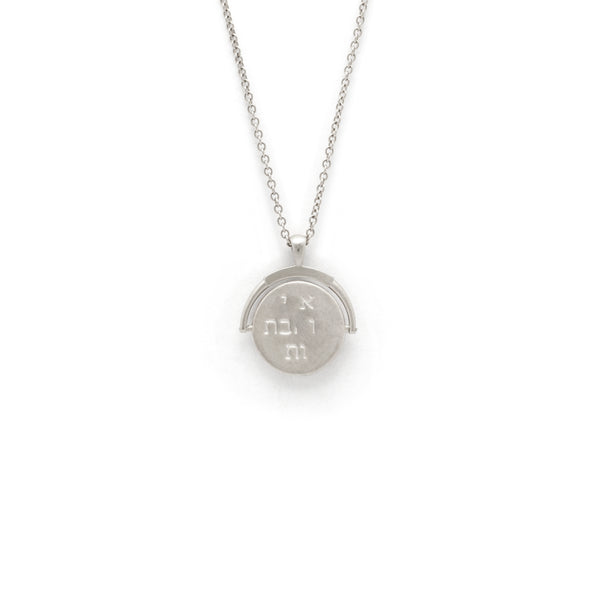 The אני אוהב אותך I Love You Spinner Necklace
The charm, when spun, delivers the message I Love You, in Hebrew, 
to the wearer.
The Spinner demonstrates discernment and subtlety: it reveals legible words of closeness only when in motion and serves as a reminder of the confidentiality of love.
For those who are familiar with the piece, The I Love You Spinner is a declaration of adoration and devotion. For all other eyes, the spinner is a minimalist piece of jewelry—the symbolism of which is a secret.
Available with or without ethically-sourced, conflict-free diamonds, sapphires, rubies, and emeralds, the 
Spinners are made by hand in Santa Fe.
The Hebrew I Love You Spinner comes in our small I Love You Spinner size, available in large as a special order.
Create your I Love You Spinner
I. 18k g
old or sterling silver
II. Conflict free d
iamonds, sapphires, or 
stoneless
The Spinners can be further customized with various stones, metals, and engraving. To do so, contact us
here
. 
Please note that silver and black Spinners come with chains. Click
here
 to purchase an Italian 18k gold chain.
All Tony Malmed Jewelry is made individually and by hand in Santa Fe, New Mexico. We only use conflict free diamonds and repurposed gold and silver.
---